A Santacruz irá lançar a nova Tallboy de roda 29, quadro carbono, 105mm de curso irá haver em laranja e talvez noutra cor.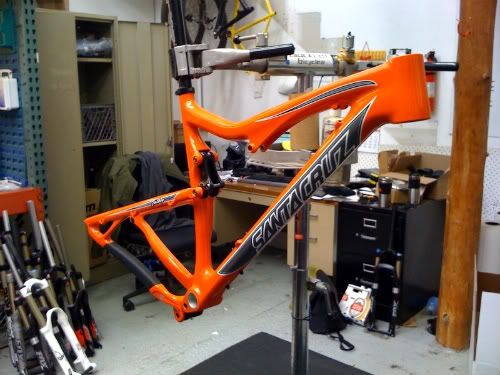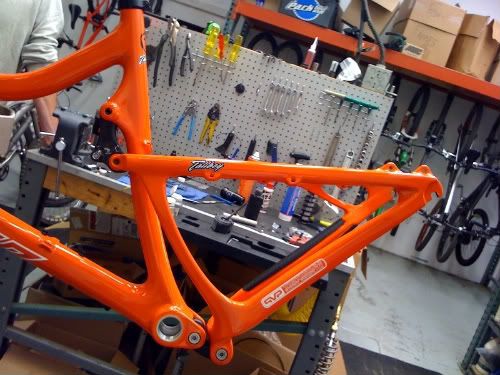 Com Tapered head tube - 1 1/8″ na parte de cima e 1.5″ na parte de baixo!!
"Fresh off the boat, specifications subject to change without notice, don't expect to buy one until around Interbike, say hello to the Tallboy.
There are probably hundreds of good reasons to maintain some degree of secrecy during the development of a bike. In the past, we've always cleaved pretty tight to the "
keep it secret until fully baked" line, and have had mixed degrees of success with that approach. The problem is, that when you develop your own prototypes in-house, and ride test the things right out your door, and have to ride through urban neighborhoods to hit well known trails where people recognize you from the barbecue last weekend while undertaking said testing, well, it is not that easy to keep secrets.

Especially since mountain bikers are generally over-curious to the point of obsessive about new pieces of geekware, and tend as a group to be toting technology in the forms of cell phone cams and/or mini video recorders. Which they then go straight home and upload onto mtbr.com. Ahhh, technology.

Anyway, we decided when we began the lead up to the final development for this new 29″ bike (yes, we really are going to call it the Tallboy. Here's hoping some people have a sense of humor) that we'd play with a slightly more open hand. But even still, we were leery of showing off the aluminum prototype mules we were riding around because for the most part our prototype mules are butt ugly. They exist to get the suspension characteristics right and the geometry where we want it and that's about it. Usually, they are fabricated out of whatever tubes or hacked up old frames we have lying around. The upside to such drab and awkward prototypes is that people usually don't pay them much mind because they just look like dull grey beaters. The downside, aside from the heinous real world expense of each frame, is that people who know to look for prototypes can spot them a mile away. Which then means we have to cobb up fake Cannondale or Specialized decals to throw people off the scent.

Anyway, by this spring, after many many months of riding other bikes, comparing them, fabricating our own mules, revising them, comparing them to each other, revising again, the mules were about where we wanted them. They rode nicely, handled well, and the suspension behavior was right where most of us wanted it to be. Cockpit sizing and ergonomics were dialed, and it was time to begin the next phase, which would ultimately lead to something we could take pictures of.

That said, we're still a long way from final production, and there could be many small tweaks between now and then. So, don't be too hasty in the rush to judgement. Still, for the most part, the following photos are going to be pretty damn close to what hits the showrooms in the fall
"