Pois é amigos, muito se falava e aqui está ela ...
A Tallboy LT, com 130mm de curso para se colocar na frente a Fox 34 140mm de curso!!!
Virá em carbono e aluminio, mas aqui fica o registo de quem esteve no bike camp da Santa Cruz
"When we reported on the Santa Cruz 2013 29er lineup, debuted in Sedona, Arizona a few months back, we only told you half the story. The big news at the redrock ridefest was a redesigned Tallboy 29er with a full,130-millimeters of suspension travel and updated geometry with a decided tweak towards the all-mountain side of the handling spectrum. Two models, the carbon fiber Tallboy LTc and its welded-aluminum sibling, the LT, were made available to a select group of journos for ride-testing in Sedona's unparalleled trail network. Ride we did, and as impressive as the Santa Cruz big-wheel bikes were, we promised not to speak about the long-travel Tallboys until April first. Here is the story.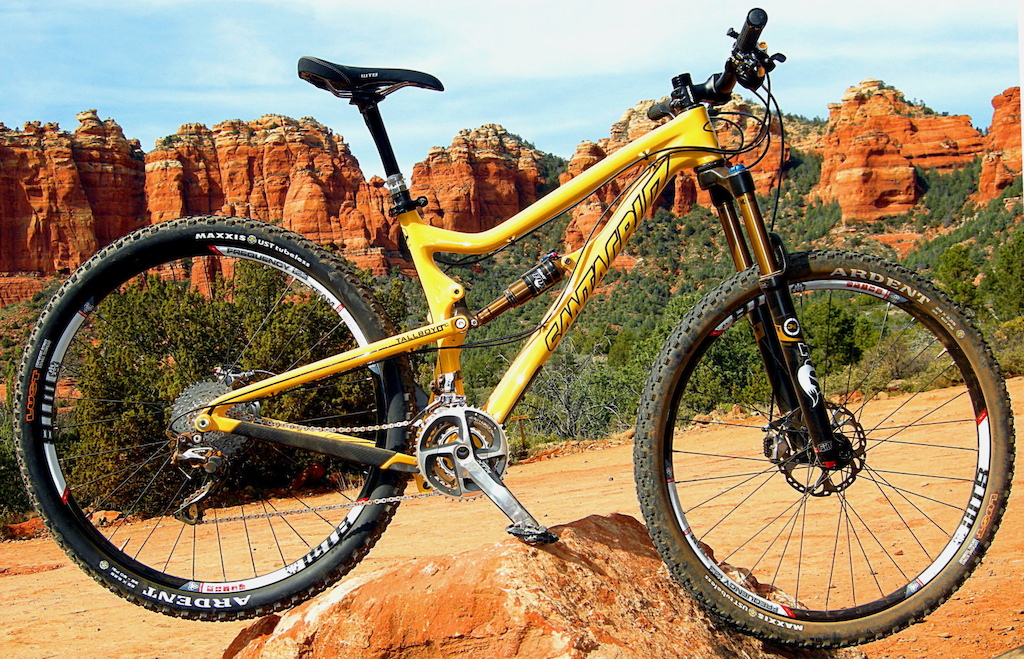 Santa Cruz Tallboy LTc Features:

• Rear-wheel travel: 130mm
• Medium, large and X-large sizes
• Frame: Carbon fiber front section and swingarm, VPP suspension, tapered head tube
• 142/12mm through-axle
• Adjustable collet-type pivot bearings
• ISCG-05 chainguide mounts
• Replaceable rear derailleur hanger or Shimano Direct-Mount option
• Aggressive AM frame geometry
• Dropper-post cable routing
• Offset lower link for better chainguide clearance
• Molded seatstay and downtube protectors
• Universal, threaded bottom bracket shell
• Custom-tuned Kashima-coat Fox RP23 shock
• Claimed frame weight: 5.3 pound
• Available as frame and shock, or complete build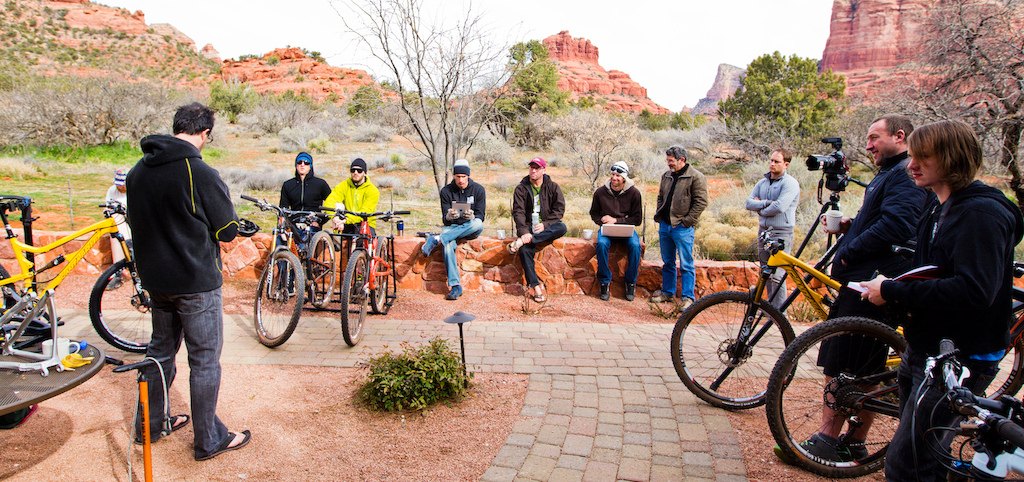 The Back Story

To say that Santa Cruz was not an early adopter of the 29er would be a gross misrepresentation. A devout long-travel AM rider, Founder Rob Roskop despised 29ers, and his distaste for big-wheel bikes was mirrored by many at the sea-side factory. The key to Santa Cruz's successful bike line, however, is that most of the crew are mountain bikers and the company only produces designs that the staff wants to ride. So, when employees started showing up with 29ers, Rob caved and set his designers to work on the project that he never thought Santa Cruz would undertake.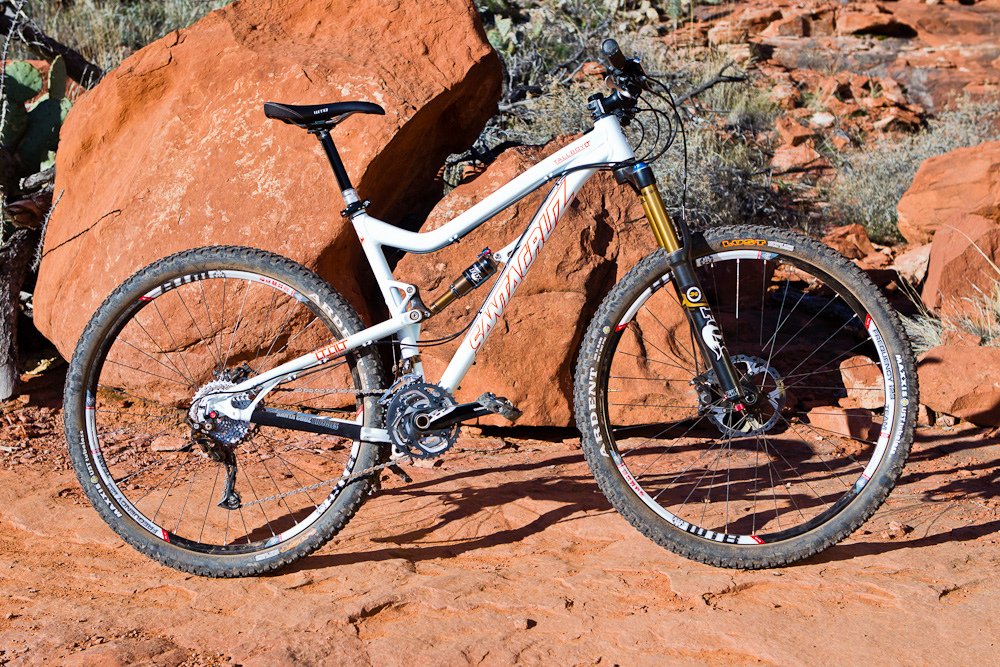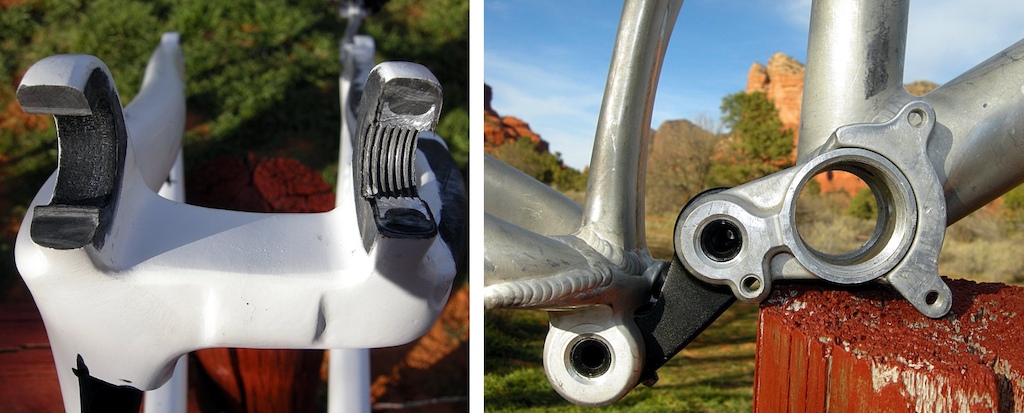 As a late arrival, Santa Cruz had the luxury to ride and evaluate a lot of good 29ers before deciding how its new design should perform. The end product was the original Tallboy – a beautifully balanced carbon-framed XC/trail bike with 100 millimeters of travel, smooth, second-gen VPP suspension and an appetite for challenging terrain. Considering Roskop's favorite haunt is Northstar-at-Tahoe's uber techy DH trails, it came as a surprise to all (especially Rob) that the Tallboy became his number one ride. In fact, the original Tallboy was such a confident descender, that most owners were over-driving the suspension and wishing for more travel. The introduction of the LT version of the Tallboy was assured from the outset. It was just a matter of when.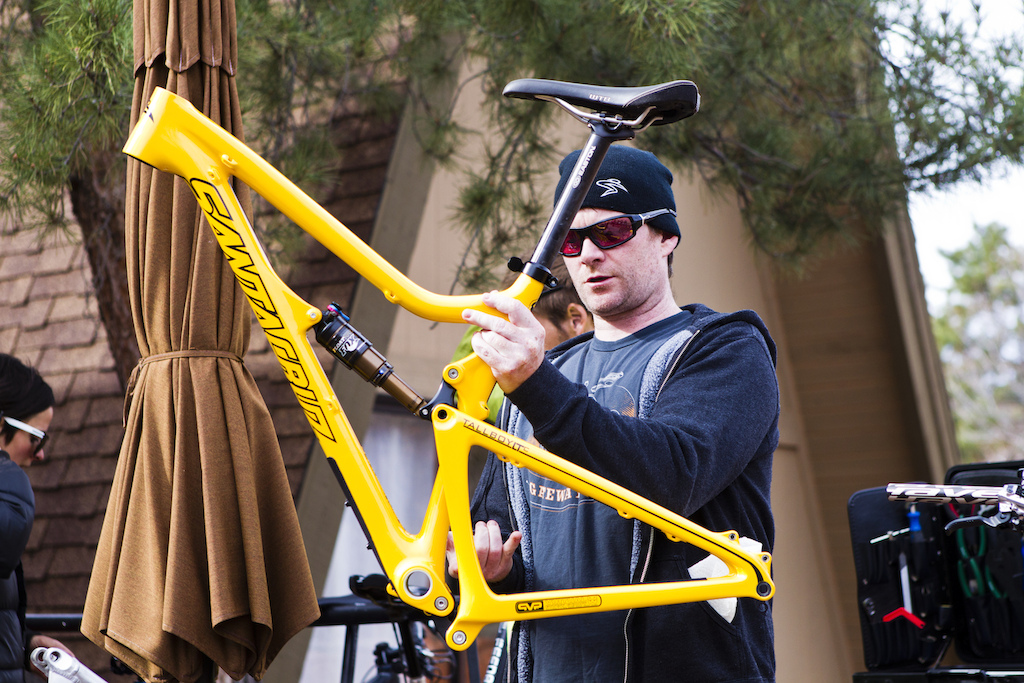 Meet the Tallboy LTc

The all-mountain edition of the Santa Cruz Tallboy feature a stronger, stiffer and about the same weight frame as its predecessor. The curvy carbon chassis sports more aggressive frame geometry and 130-millimeters of wheel travel, which is a lot for a 29er. Currently, the 140-millimeter-stroke, Kashima-coated Fox 34 Float 29 fork is the slider of choice for Tallboy LT series, but its debut was timed to coincide with the release of 130mm and 140mm-travel 29er forks from all major suspension brands to grant Santa Cruz customers freedom of choice. The Kashima-garnished Fox RP23 shock is custom tuned for the Tallboy's second-generation VPP suspension. Durability and technical performance are job-one for the Tallboy LTc, so its frame is heavily reinforced where it may get bashed around and its component selection and geometry are chosen to showcase technical rider skills. To this end, space is provided in the swingarm for tires up to 3.5 inches wide, and a dropper post is standard equipment.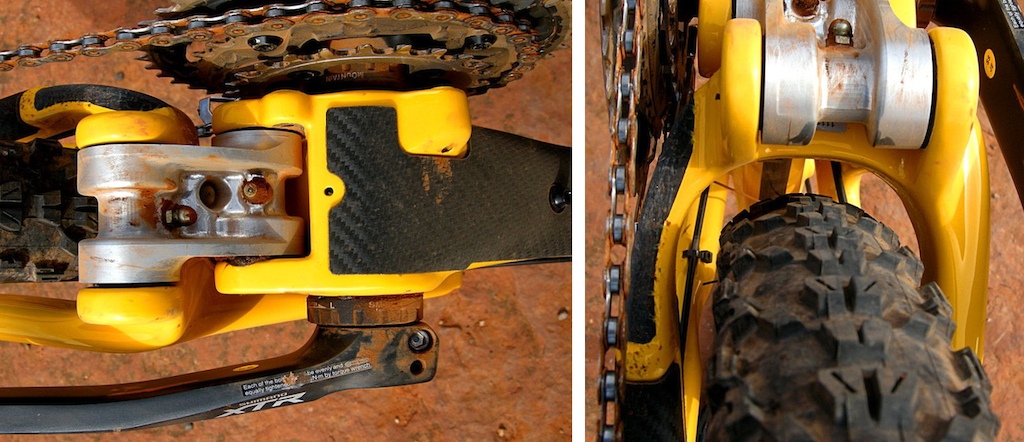 Santa Cruz claims the medium sized LTc frame with its shock weighs only 5.3 pounds. At least half of the longer-travel 29er frame's weight reduction comes from knowledge gained from the conservatively built Blur Ltc and original Tallboy frames. When Santa Cruz began its carbon frame development with the Blur LTc, it teamed up with the most exclusive composite frame maker on the Pacific Rim as its only MTB customer. The duo erred on the side of strength and reliability to ensure their first venture was bomb-proof. Subsequent destructive testing and field reports indicated that the frames could be lightened considerably, which led to new layup procedures and design strategies. To further reduce weight, almost all of the aluminum bits molded into earlier frames to house bearings and threaded pivot hardware were either eliminated or reduced to miniscule proportions in the Tallboy LTc frame. The Tallboy LTc can be had in medium. Large and X-large sizes as a frame and shock only, or as a complete bike in two all-mountain builds that range from $45399 to $5299 USD. Colors are matte carbon/orange graphics or yellow/black graphics.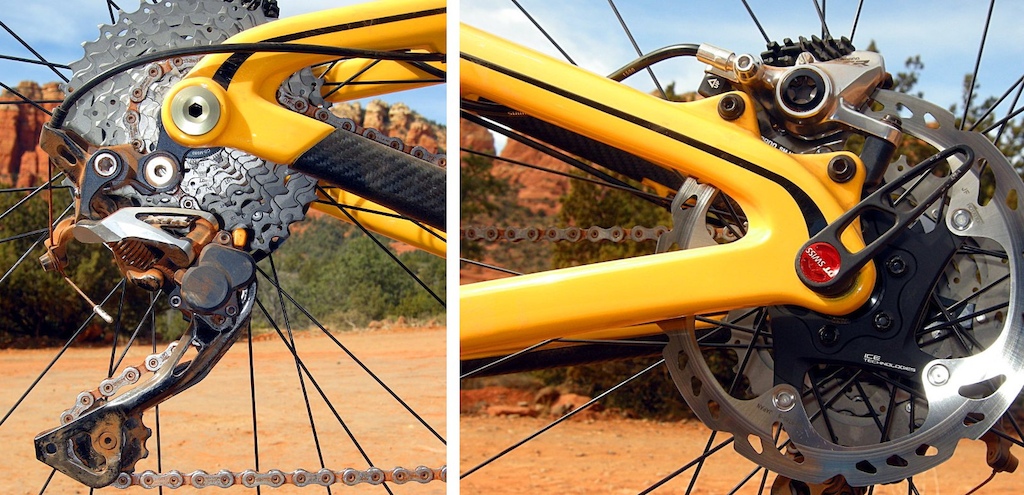 Frame Technical Highlights

Through-Axle: Santa Cruz adopted the 142/12-millimeter through-axle standard for the rear of the Tallboy LTc, which is considered by 29er designers as a must for lateral stiffness at the rear of the bike.

Suspension upgrades: Its dual-link VPP suspension runs on easily adjustable angular-contact bearings. The upper link is carbon fiber and the lower link is aluminum. To make room for derailleurs, chainguides and crankset options, the lower link arm has been offset to the left. The two Zerk-type grease fittings on the lower link are now recessed to eliminate the possibility of bash damage.

Chainguide mounts: Single-chainring riders will herald the Tallboy LTc's ISCG-05 chainguide flange, and part-swappers will appreciate that the bottom bracket is a universally adaptable threaded type.

Single-ring adaptability: Another conservative switch was from an integrated front derailleur mount, to a standard band-clamp-type. Santa Cruz media hound Michael Ferrentino explains that the clamp setup offers more options and looks better for derailleur-free single-chainring drivetrains.

Cable routing: The Tallboy LTc's cable routing is clean and intelligent, with faired-in guides throughout, including a pathway for a dropper-post housing.






Carbon brake caliper mounts: With most frame makers touting that they have integrated post-mount brake caliper bosses, Santa Cruz does a 180, using flange-type rear brake mounts on the Tallboy. Chief Engineer Joe Graney explains that the caliper mounts are carbon fiber with simple drilled holes for mounting the brake hardware. Joe maintains that this is a best-use application of carbon material and that using a threaded insert or threading a carbon post-type boss would cause more problems than bending to present fashion would solve.

Short head tubes: Tallboys, like all 29ers are quite high at the handlebar and when one adds a 130-millimeter-stroke fork, higher still, so its tapered head tube is reduced to the minimum length that can be used with tapered-steerer forks. Head tubes for the medium and large frames measure 3.9 inches (100mm), while the X-large size is only 4.3 inches (110mm).




Geometry: It takes a lot of restraint for knowledgeable 29er designers to choose a head angle that is correct for a 29er rather than picking a compromise, super-slack head angle to satisfy the present mentality of core riders. Larger-diameter wheels cause a bike to react much more slowly to steering input than a smaller 26-inch wheel does, and to scribe a dramatically wider arc when leaned into a corner. Santa Cruz slackened the LTc's head angle 1.5 degrees from the original Tallboy's 71-degree figure to 69.5 degrees. In Joe Blow speak, that's the equivalent of going from a 69-degree head angle on a 26er, to a 67, but with better straight-line performance in the rough. The new Tallboy's seat angle has also been slackened by about a half-degree, presumably to paste a little more weight onto the rear tire to compensate for the fact that 29ers have longer chainstays on average -17.9 inches (455.9mm), in the case of the Tallboy LT.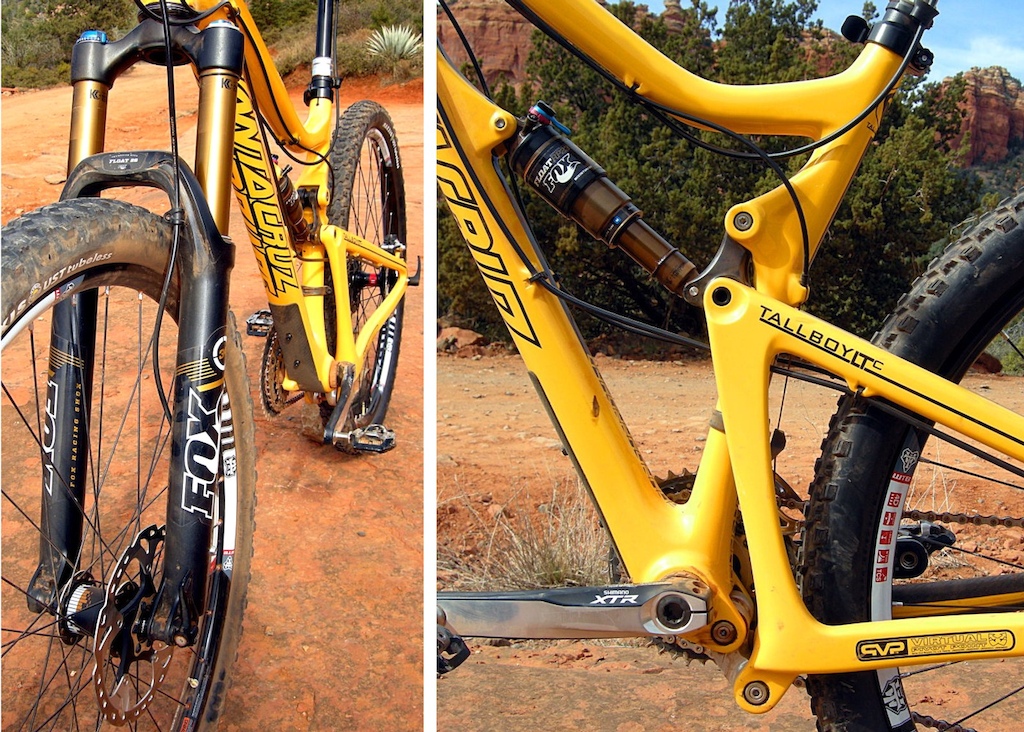 Tallboy LTc Suspension Notes

The Tallboy LTc's dual-link VPP (Virtual Pivot Point) suspension is designed with a slight falling rate in order to firm up pedaling in the initial stroke, and a slight rising rate in the end-stroke to soften full-travel impacts and landings to flat. A smooth transition between the two extremes in the mid-stroke prevents the suspension from blowing through its travel. Assisted by Fox's slick Kashima-coated 34-millimeter-stanchion Float 29 fork and Float RP23 shock, the Tallboy is designed to squeeze as much performance as possible from its moderate-by-all-mountain-standards suspension travel.

The choice of Fox suspension for its all-mountain 29er was not a whim. The Float fork and shock have boosted end-stroke compression damping, which helps cover the Achillies' heel of 29ers. Big wheels can smooth a lot of rough ground, but when the bumps get truly big, or when landing from high places, there is no replacement for suspension. The 29er's restricted wheel travel due to frame-clearance issues means its fork and shock must be able to soften repeated full-travel hits without bottoming harshly, and Fox has mastered this aspect of suspension damping quite well.




Tallboy LTc First Impressions

Riding the new Tallboy LTc was a familiar experience. The feel is much like the original, with predictable steering, smooth acceleration and no need for excessive body English to keep the bike on line when clawing up or down rocky sections on the trail. Sedona's combination of smooth-as-silk clay singletrack, square-edged steps and drops provided ample opportunity to judge whether an additional 30 or 40 millimeters of wheel travel was worth two years of development at Santa Cruz. The verdict was not as clear as expected.

The added travel did not make the LTc feel like a magic carpet. Bumps that jarred me on the old Tallboy could be felt through the longer legged version. Drops to flat and G-outs used every bit of the suspension. To its credit, however, the new LTc feels exactly how I wanted the old Tallboy to be – faster uphill, faster downhill and even more capable in the rough.

At 13.4 inches, its bottom bracket feels quite low for any AM/trail machine. And the BB centerline falls over an inch below the axles' center, which greatly enhances cornering traction. The Tallboy LTc can track a line around a corner regardless of what may lie in its way. In fact, the Tallboy LTc took me from zero to hero when turns magically appeared where I had expected a straight-away descent. Same goes for rolling near-vertical drops, where the big wheels and in-the-chassis cockpit feel always managed an exit with the rubber side down. After a day on the new Tallboy, I got the sense that the bike would cover for me when I hit something that looked iffy, which is exactly how an all-mountain chassis should feel.

The flip-side of all-mountain is that the bike must pedal well enough to tackle enduro-length ascents without tears. Santa Cruz gave the new Tallboy ample firmness in the pedaling department to keep a relatively fit rider's legs fresh enough to enjoy the descents. I surprised myself by acing some relatively technical switchback ascents, powered partly by 'new-bike-syndrome' for sure, but I felt I was boosted through the steeper sections by a nicely balanced chassis that kept the front end planted and steering while I huffed my way up Sedona's steps and babyheads. Climbing with the shock and fork wide open was best practice for most technical steeps. That said, the extra firmness that the shock's ProPedal platform lever offered up long ascents was very welcome. The long-travel Tallboy is an efficient climber, and it maintains an uncanny amount of speed on any type of trail, but it understandably lacks the 'go-for-it' snappy acceleration of a dedicated XC-oriented suspension bike.




Technical Report

The Tallboy I spent the most time on was set up with a triple-chainring Shimano XTR drivetrain and Trail Brakes with ICE Tech rotors. The RockShox Reverb dropper post is a must if you truly want to enjoy Sedona's trail network and, without trying any other suspension package, I will venture that the Kashima-enhanced Fox fork and shock were the best choice for the Tallboy's moderate wheel travel. I rarely used the big chainring on the XTR triple and sometimes wished for a lower gear. I would happily toss the triple for a more useful-for-29er double-ring crankset with a 38- or 36-tooth big ring and a 22 tooth low for muscling up the steeps.

Pinkbike will certainly have a full review up for the Tallboy LTc in the near future. Until then, the takeaway for Santa Cruz's new all-mountain/trail 29er is good news. Few 29ers feel this good at the outset. Fewer still handle as lightly and nimble in demanding situations - nimble enough that I often forgot that I was on a big-wheel bike. The Tallboy LTc is not going to inspire many to don a full face and mach DH runs and it isn't going to win XC races. The Tallboy LTc's selling point is in the riding. Hit the trail and in less than a mile, the boundaries between bike and rider begin to blur until at some point, there is only speed, effort and line choice. It doesn't get much better than that - RC"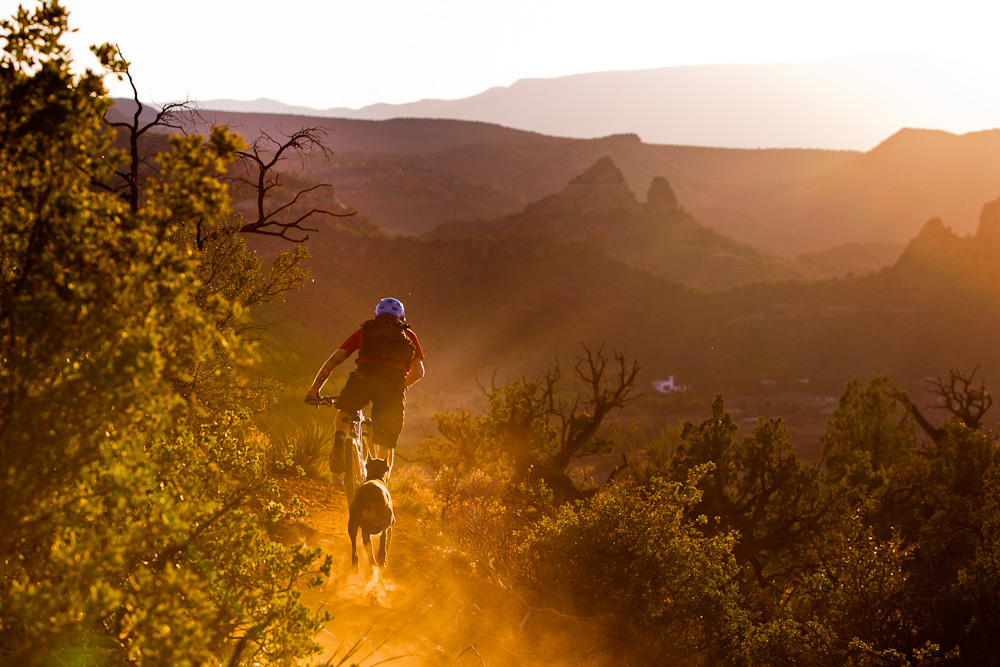 E eu que andava com ideias de trocar a minha BLT2 ....... vou jogogar no euromilhões e já venho :wink:
[video=vimeo;39575491]http://vimeo.com/39575491[/video]